Sunday, May 30th, 2021
Five years old, terrified on my first day at school. I sat on the mat and the teacher read Horton Hatches the Egg by Dr Seuss. I was so engrossed I didn't notice my mother slip out. Horton the faithful elephant helped me get through that day.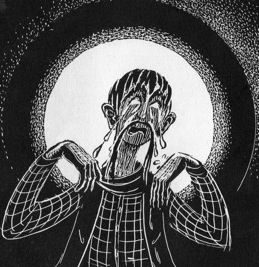 Six years old, and absorbed in a cowboy adventure, Calico the Wonder Horse by Virginia Lee Burton. Gripped by this image of the Stewy Stinker crying in remorse for his wickedness – aware of my own failings perhaps.
Seven years old, and Tintin was my role model for courage and integrity. His stories introduced me to sci-fi and humour, history and politics.
Eight years old, and The Phantom Tollbooth by Norton Juster opened the world of word-play to me.
Nine years old, and I devoured Willard Price's books – pulp adventures with erupting volcanoes, balloon rides and killer anacondas. I wanted to write books as exciting.
Ten years old, on the ultimate journey with a small hero facing the monstrous Smaug. The Hobbit kindled my imagination more than any other book. It was, as Tolkien said,
'an escape to a heightened reality- a world at once more vivid and intense.'
Here's the 1966 version that I once owned, with a cover drawing by Tolkien (link to all Hobbit covers).