Top 20 Children's Books
20 years reviewing children's books, 20 of my favourites:
(Best Children's Books and Reading Lists)
Beginning with picture books, then to novels:
Zagazoo – Quentin Blake – ingeniously reflects the stages of childhood. A growing baby evolves into a vulture, a warthog, and finally a hairy adolescent monster.  Wise and witty.
I Went Walking — Sue Machin — the perfect book for two year olds. Uses essential language: repetition, questions, rhyme.  Beautiful watercolours by Julie Vivas.
When Findus was Little and Disappeared — Sven Nordquist. Hilarious picture book about a Farmer and his cat Findus.  The  illustrations are genius. Seek out the rest of the Findus series.
The Stranger — Chris van Allsburg — a dreamy mystery about a man who 'autumn' made flesh. The  hyper-real images create the atmosphere. Check out the artist's other classics.
Do Not Open — Brinton Turkle. The ultimate genie in a bottle story. Terrifying in a safe way.
Golem — David Wisniewski — a fable about the effects of power. Stunning collage.
The Magpies — Denis Glover — a classic 70 year old poem with Dick Frizzell's rustic paintings.
Calico The Wonder Horse – Virginia Lee Burton – an remarkable picture book that I've loved since I was 5. A cowboy story with dynamic illustrations, especially the flash flood.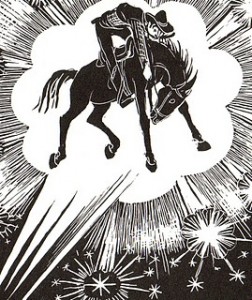 The Moomin books – Tove Jannson – My all time favourite  novels of bizarre characters, philosophy and childlike wonder. The Complete Comic Strips are excellent, too.
Herbert the Brave Sea Dog – Robyn Belton – the true story of a  dog lost overboard in treacherous waters and miraculously survives more than 30 hours in the sea. The writing and illustration are a perfect marriage.
The Daydreamer – Ian McEwan –  superbly written, imaginative, interlinked stories about a boy who daydreams to cope with the trials of  growing up. Reality and fantasy blur in these perceptive tales. Great read-aloud.
Silverwing – Kenneth Oppel –  The gripping journey of a bat on a quest to find his father while pursued by vampire bats. The imagined world has internal logic (a sign of great fantasy), combining bat biology with engaging characters.
Holes – Louis Sachar –  suspenseful and surprising . A boy is sent to a desert  camp for delinquents.  The tender-hearted hero makes friends and discovers hope in unlikely places. A tale of synchronicity.
Roll of Thunder Hear My Cry – Mildred Taylor – a family fights against extreme prejudice. An incredibly moving story of hardship, but with the hope that's so essential in children's fiction.
Parvana — Deborah Ellis — a girl must disguise herself as a boy to survive growing up under Taliban rule in Afghanistan.
Island of the Blue Dolphins – Scott O'Dell – historical adventure that grips the reader: you just have to find out if the Indian girl survives on the island.
Dominic – William Steig – about a free-spirited dog who embraces life. Talks directly  about death, honour, and love within in a funny adventure. Steig also created the original Shrek and so many other wonderful picture book classics.
Coraline – Neil Gaiman  – a girl finds a mysterious doorway  to a parallel family with creepy parents. She must use her wits to save her real family. Subtle ideas about childhood.
Siberia – Ann Halaam – in a camp for political prisoners  a girl  hides an incredible treasure – a box containing the genetic material of all wild animal species on Earth. A timely sci-fi story.
Drift – William Mayne – a gripping teen novel. The opening chapter:  two children stranded in a hut on a cracking ice floe, with an angry bear.