Sting – honey bee novel
Finalist: NZ Post Children's Book Awards; Sir Julius Vogel Awards
Wonderfully imaginative story – Magpies

Adventure with a sense of humour – North and South
Honey bee novel for children 7 to 12
Blends animal fantasy, sci-fi, and bee biology.
Environmental and anti-war themes.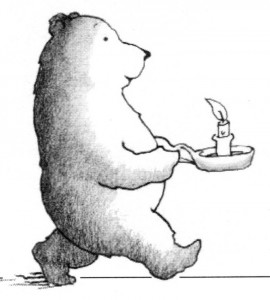 Sting is a children's novel  about Ziggy the honey bee. He's rejected by his hive, kidnapped by the human military, befriends bumblebees, fights Killer Bees, and finally discovers the truth about himself. Published by Walker Books.
Classroom ideas/teaching notes, download pdf.
Interview
Why did you write Sting? I wanted to write the kind of book I loved as a child, an adventure with a very small hero, like the Hobbit –  Tolkien spoke of 'the indomitable courage of quite small people against impossible odds' which inspired his novels. The honey bee seemed the ideal hero – a creature that talks by dancing, has a weapon it can only use once, has magnetic crystals inside it, and keeps the human race alive – I couldn't have invented that!
Where did you get the plot ideas? I saw beehives in an isolated valley (photo) and imagined Ziggy 'running' away from home on page one. I read  about the army training bees to find bombs ('bomblebees') — and they became Ziggy's first enemy.  I didn't want it to be a cartoonish fantasy (like the inaccurate Bee Movie) so  I made their behaviour realistic – such as the way Ziggy navigates. When the bee crisis hit the news it motivated me to draw attention to these unique insects.
Where did you learn about bees? I was given a beehive for my birthday, and I learned from beekeepers and scientists who study the secret life of bees. I read fantastic books like  Sweetness and Light by Hattie Ellis. Her quote at the start of Sting sums up the book: every tiny creature is vital – everything is connected.
The bees say 'Bee seeing you'. Was that from The Prisoner? It was inspired by the TV show about a man trapped in a village. He was called Number 6 and shouted,  'I am not a number! I am a free man!' Ziggy felt like that.
Read another Ziggy adventure, Wings; and a non-fiction picture book Flight of the Honey Bee.
Reviews
'With wit in dialogue and sympathy for the classic outsider, Huber makes Ziggy delightfully credible.' — Diane Hebley, NZ Books
'There's every bee joke you could ever imagine.' — John McIntyre, National Radio
'Appealing to that often neglected group of readers — boys.' — Vanda Symon
'… Through the plot is woven a subtle lesson about the biology of bees… any child who likes to watch insects will absolutely love this book.' — Sandy Fussell, Reading Stack
'The fast paced action  makes the story fun to read aloud… — Read Plus
'Wonderfully quirky' — Book Award Judges
Children's Comments:
'When Sting ended I thought I might dream about it every night after that!'
'I am up to the part when Ziggy is riding on the explosion… it is so good that it is hard to stop reading.'
'Your book is very interesting (I don't mean weird). I couldn't put it down.'
'Hey Sting, your book rocks.'