Gecko Picture Book
'Beautiful' – The Wall Street Journal
'It's absolutely perfect.' – Massachusetts Librarians
Junior Library Guild Gold Selection
Top 10 Australian Books for 9 – 12 year olds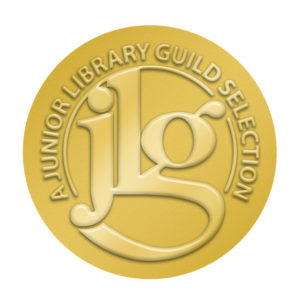 Gecko (buy here) is a picture book about day in the life of a gecko. Journey from the cliff-tops to the jungle as gecko hunts for food and is himself hunted by deadly predators. Candlewick (US); Walker Books Australia/NZ/South Korea/Chinese.
See Gecko shed his skin! Watch the amazing tail-trick!
Geckos are the escape artists of the lizard world; outsmarting predators with disguises, deceptions and fast getaways.
"The illustrations perfectly capture Gecko's mercurial nature – a balance of action and stillness as Gecko flows from page to page."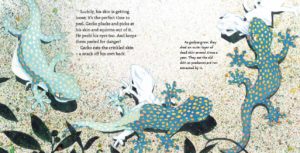 Reviews
Absolutely stunning artwork combines facts about geckos with an exciting story about a day in the life of one little reptile. I loved the combination of the slightly gross with the mundane…Huber carefully constructs the narrative so that answers emerge organically from the text just as they start to nag at the reader…It's absolutely perfect. 5/5

Lovelock's ink, colored-pencil and watercolor pictures work in beautiful tandem with Huber's text to describe the capacities of an extraordinary creature. – The Wall Street Journal

An excellent example of the seamless integration of text and illustration to produce a high-quality non-fiction title. – Book Council of Australia

The whole effect is just stunning. Beautiful understated artwork… This book is a delightful edition to the Nature Storybook series. – Kids Books NZ

Highly recommended. Augmented with lustrous illustrations, reading this book is a treat. This is a wonderful addition to a fascinating series, well produced, thoughtfully written and informative.– Read Plus

Huber and Lovelock have teamed up again to produce another beautiful narrative, nonfiction, picture book. This book is perfect for a wide age range. – Bookrapt

I dig this. As a teacher I would happily add this to a library corner as a research tool, and as a parent it makes a nice bedtime story.– Golden Adventures

Gecko has a rich, vibrant text, coupled with beautifully detailed illustrations. A delightful book.– Booksellers NZ

Listener's Best books For Kids

Storylines Notable Book Award 2018

Children will devour these and the many other fascinating facts…Brian Lovelock's vibrant artwork is captivating. Otago Daily Times

A fascinating book that is well researched, nuanced, unified, and with high quality production values. By any measure it is a beautiful book to hold, explore, and linger over, showcasing written and visual text cohesion. For both older and younger readers Gecko's multilayered content arouses curiosity and offers us insights into the natural world around us.– Trish Brooking, Dunedin College of Education