Saturday, February 2nd, 2019
Ferdinand (1936) by Munro Leaf is one of the most influential children's books because of its simple but powerful theme. The tale of a bull who likes to smell flowers instead of fighting was seen as a pacifist text at the time of the Spanish Civil War.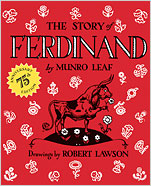 Ferdinand chooses to be himself rather than follow the aggressive crowd. No wonder the book was:
Read the true story of the bull who inspired it: The Marginalian.
Munro Leaf also wrote books which reflected the stricter child-raising style of his time. 3 and 30 Watchbirds (1941) condemns children's behaviours such as shoe-scuffing, mumbling, moaning, fidgeting, and wasting food. Some of it's in the spirit of war-time frugality, but some is just plain excessive:
Grammar Can Be Fun is slightly more tongue-in-cheek and warns children against slack language such as "gimme, wanna, gonna, and ain't".