King of the Golden River
The King of the Golden River (1841) by John Ruskin is a children's morality tale that still speaks loudly. It's unique among fairy tales in having a punchy environmental and social message as well as being highly atmospheric. It's about two brothers who exploit the land and have no compassion for their workers:
They shot the blackbirds, because they pecked the fruit; and killed the hedgehogs, lest they should suck the cows; they poisoned the crickets for eating the crumbs in the kitchen; and smothered the cicadas, which used to sing all summer in the lime-trees.
Their fertile valley becomes a wasteland and is cursed by the Southwest Wind (illustration below by Richard Doyle). To break the curse the brothers must journey to the Golden River but they fail to help the people they meet on the way. Their younger brother cares for the needy and as a result is saved from the fate of his brothers.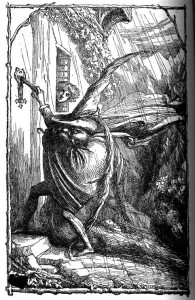 Tags: children's books, classics, fairy tales