Saturday, August 31st, 2019
Dae they no ken that Tintin's in danger?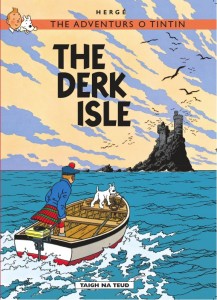 The Derk Isle is the first Tintin book to be translated into the Scots language (which is over 1000 years old and is still spoken) and it works a wee treat. Familiarity with the original, The Black Island (1938), adds to the fun but most readers will easily understand the Scots (it's best read aloud). Among the delightful phrases: 'dinna fash' (don't worry), 'whit a scunner' (what a nuisance), and 'blackbelickit' (drat). Snowy becomes Tarrie (terrier) and the Thompson twins are Nesbit and Nesbit.
"He's a fair wunner, is wee Tarrie. There's no a dug like him for snowkin efter crooks!"

"Oot ye get! An nae joukery-pawkery, mind!"