Saturday, April 13th, 2013
More than any other book I read as a child, The Phantom Tollbooth (1961) by Norton Juster  gave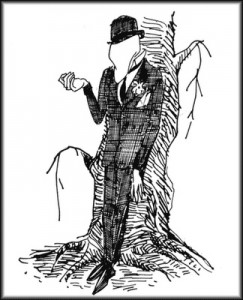 me a love of words– it puns them, pushes them, and explodes their meaning. It's overflowing with inventiveness: the man who is short, tall, thin and fat, at the same time; the orchestra that plays colours; the city that disappears because nobody cares. And I love the illustrations by Jules Feiffer, especially this faceless timewaster (pictured), The Trivium, who has a message for all writers:
What could be more important than doing unimportant things? … There's always something to do to keep you from what you really should be doing.
The Phantom Tollbooth is about a child's quest to overcome boredom. It's told with imagination, wit and wisdom — what more could you want in a children's book?
 I had been an odd child: quiet, introverted and moody. Little was expected from me. Everyone left me alone to wander around inside my own head. When I grew up I still felt like that puzzled kid — my thoughts focused on him, and I began writing about his childhood.

Children are still the same as they've always been. They still get bored and confused, and still struggle to figure out the important questions of life. – Norton Juster