Sunday, August 17th, 2014
All royalties from my ebook about honey bees are donated to Oxfam, funding projects such as 'Plan Bee' which teaches beekeeping to women in Ethiopia. The Plan Bee project will enable an extra 4,400 women beekeepers to increase production by using modern beekeeping methods and equipment and thereby earn a living for their families. Read more about Plan Bee.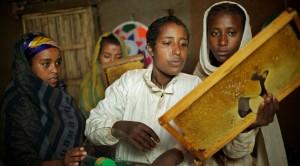 Photo: Wubalem Shiferaw, beekeeper, Ethiopia (courtesy Oxfam).