Great movies 1. Rear Window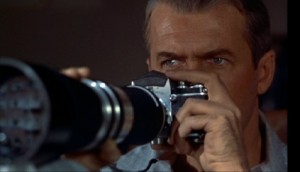 Rear Window (1954) has a superb script and acting, but its underlying strength is the use of set design and viewpoint to carry the theme. We're trapped in a room for 99% of the movie and 'forced' to spy with the main character. Each window he looks into is a window on aspects of relationship: passion, exploitation, bitterness, or loyalty. The film also has humour, suspense and Grace Kelly. Best seen on a big screen to appreciate Hitchcock's control of detail.
'For me, it stands alone among his movies for its warmth and humanity.'– Mike Leigh
Read a longer review and the script.
Best Hitchcock, chosen by famous film directors