The Magnificent Moomin Comics
There is great exuberance in the Moomins, and a delightful battyness. – Jeanette Winterson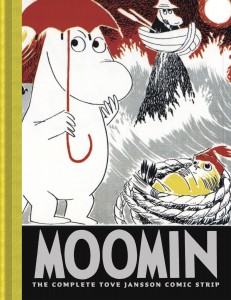 The Moomin comic strips by Tove Jansson, which ran in many newspapers from the 50s to the 70s, have been reprinted in five magnificent hardback volumes. The comics are a lovely balance of batty humour and optimistic philosophy. The free-spirited Moomins live in the moment and their stories are more relevant than ever, commenting on consumerism, the environment and work ethics.
For example, in The Conscientious Moomins, an officer of the League of Duty admonishes Moominpappa for being a drop-out from society; but when Moominpappa joins the establishment, all the pleasure goes out of life.
"To you life is not even a struggle. You earn no money!"
"We need very little"
"As soon as you earn some you will need it!"
.
Tags: children's books, comics, moomins, reviews