Sunday, August 24th, 2014
The classic picture book Calico the Wonder Horse — The Saga of Stewy Stinker by Virgina Lee Burton was published in 1941. I adored this comic-book style cowboy adventure as a child mainly because of the bad guy. Stewy Stinker is so low he steals Christmas presents from children but in the end he repents. This picture of him crying out his rottenness always made me feel sorry for him: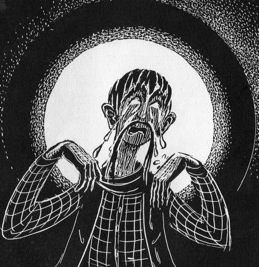 The word 'Stinker' was censored from the book in the 1940s as it was considered inappropriate for children. Burton was one of the great illustrators and the idea for Calico from seeing her sons engrossed with comic books. The wonderful design, cartoon framing and action scenes of Calico are worthy of a modern graphic comic: the flash flood and stagecoach crash are gripping highlights. But it's that haunting image of Stewy that will stay with me.