Sylvester and Steig
Sylvester and the Magic Pebble by William Steig was banned in 1969 in many states because it depicted police as pigs (even though they were kind pigs). The brilliantly absurd plot has Sylvester the young donkey trapped inside a boulder while his parents search frantically for him. It's about a child's fear of separation – Steig's version of his favourite book, Pinocchio, about a boy trapped in a piece of wood. The ending is typical Steig: the child reunited with loved ones in with hugs and tears. When he was 15 years old, young William ran away to sea after an argument with his father:
When I finally got home, my mom and dad hugged and kissed me and we all cried. We were a very emotional family.
Read an essay about Steig and his books.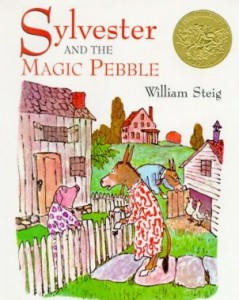 Tags: children's books, picture books, steig